Colors and Coats
They say a picture is worth a thousand words.....do you agree?
See the pics below:
Also if you are looking for the smallest lowest shedding puppy you can get from us....please ask about our straight coated doodles. We have them every once in awhile. ;)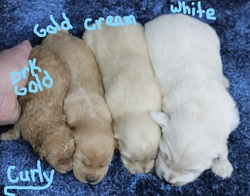 Above you will see a few different puppies. In the picture above, you will see a, almost white English cream colored puppy. Then a more cream colored puppy, then basic gold, then dark gold with a twist....the twist is the "doodle" coat which comes from being half poodle. I added that puppy in for two purposes. 1) so you can see the dark gold color 2) So that you can see, just like I can see....the difference between a doodle coat and a mini golden/straight coat.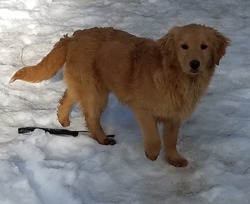 "Joey" above and below is a large straight coated goldendoodle. He is fully grown and 31 lbs. Handsome boy, not available for sale but as an example of what a straight doodle "may" look like. His color is "GOLD"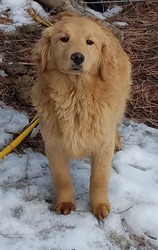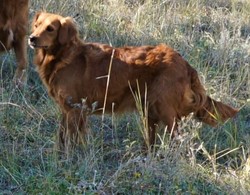 "Strawberry" above and below is another example of a 50% straight coated doodle. She weighs about 22 lbs. ;)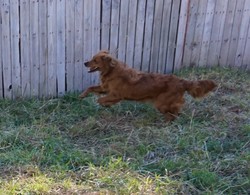 The picture above is a litter of English Cream Goldendoodles. Their coats are all nonshedding. See the curls? We do raise these pups from time to time as well.
This litter is ALL either dark gold or red. You can see around their eyes what color of miniature or toy golden retriever they will be. ;)