Colors and Coats
They say a picture is worth a thousand words.....do you agree?
See the pics and videos below:
Also if you are looking for the smallest lowest shedding puppy you can get from us....please take a look at our straight coated doodles below: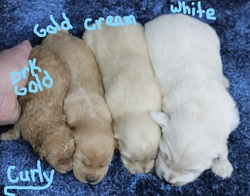 Above and to the right, you will see a few different puppies. In the picture above, you will see a, almost white English cream colored puppy. Then a more cream colored puppy, then basic gold, then dark gold with a twist....the twist is the "doodle" coat which comes from being half poodle. I added that puppy in for two purposes. 1) so you can see the dark gold color 2) So that you can see, just like I can see....the difference between a doodle coat and a mini golden/straight coat. In the video to the right....you can see that a straight coated "doodle" looks more like a golden retriever even though it is also 50% poodle. ;) I just wanted you guys to be able to see the differences that I get to see on a regular basis.
Thanks for stopping by! ;)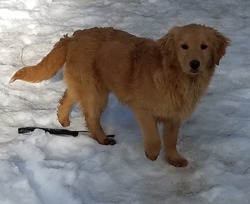 "Joey" above and below is a large straight coated goldendoodle. He is fully grown and 31 lbs. Handsome boy, not available for sale but as an example of what a straight doodle "may" look like.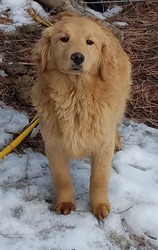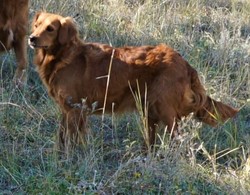 "Strawberry" above and below is another example of a 50% straight coated doodle. She weighs about 22 lbs. ;)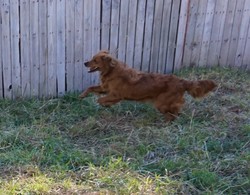 This little guy below is half poodle and half mini golden. He is ready to go now. He is out of Maggie and Peanut. He will likely mature 15-25 lbs. If you want the best of all worlds....lower shedding (likely) toy size, and straight coated (face as even many goldens have wavey coats) This is the guy for you! His brother is sold now but is the little guy in the video above. See how much smaller he is than the mini golden pups? Still just as adorable!!!
Straight coated doodle boy: $2400 (SOLD)